A voluntary program that compensates the landowner for good stewardship.
​
CREP pays landowners to establish buffers of native trees and shrubs along fish bearing streams and rivers. CREP is a voluntary program to establish forested buffers along streams where riparian habitat is a significant limiting factor for salmonids. In addition to providing fish and wildlife habitat, buffers of native vegetation help protect water quality, stabilize stream banks, reduce erosion, create shade that lowers water temperature and provide attractive borders for privacy and protection.

The program pays all the expenses to establish the buffer, in addition to annual rental payments and other benefits to the landowner.

Land enrolled in CREP is removed from production and grazing under 10 to 15-year rental contracts. In return, landowners receive annual rental payments and a signing bonus. Landowners are reimbursed for 100% of the eligible costs for buffer establishment and maintenance. In addition, landowners may be reimbursed for fencing, livestock watering facilities, and, in the case of small streams, livestock crossings.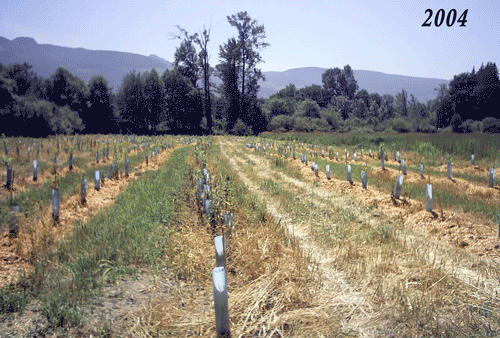 Buffer design is flexible, not a one size fits all buffer.
​
CREP recognizes site variability. The buffer boundary can be moved toward or away from the stream at different locations to meet landowner needs, as long as the average meets the buffer standard. Landowners can enroll all or a portion of the eligible streams on their land. They can enroll one or both sides of the stream. The width of the buffer next to the stream or river may vary from 35 to 180 feet.

We are working to make hedgerows and filter strips an eligible cost share practice under CREP sometime in the near future.
Signups and Eligibility
​
The program is administered by USDA Farm Service Agency (FSA). Skagit Conservation District, under Washington State funding, provides the technical support and project planning. Land is enrolled in CREP under either a 10 or 15 year agreement.. Signups are accepted year-round. Eligible land must be able to support trees and shrubs and be parallel and adjacent to a sea-run fish-bearing stream.

Riparian Buffers

Technical assistance to design, install, and maintain the buffer is provided by the Skagit Conservation District. The buffers must be designed according to Natural Resource Conservation Service (NRCS) standards and specifications, which include planting with native trees and shrubs suitable to the site.
Annual Rental Payments

Annual rental payments are based on the FSA established rental rate for the soils in the offered acreage. Annual rental payments are issued shortly after October 1 each year.

Cost share for maintenance is provided to ensure that the buffers establishes.
​
After the riparian buffer is planted, Washington State will provide cost share to maintian the buffer to specifications for the first 5 years. A maintenance prescription written by a Skagit Conservation District technician will identify activities and their costs to ensure the successful establishment of the buffer.
Is CREP right for your property?
​
A Skagit Conservation District Resource Specialist will visit your property to make a no-obligation site assessment. The Resource Specialist will discuss buffer design options and provide estimates of the rental rate and the signing bonus. The site assessment is also a good opportunity for questions and answers about the program and site-specific issues. Please contact the Skagit Conservation District to schedule a site assessment.
​
If you would like to Enroll

To enroll in CREP, please make an appointment with the Farm Service Agency 360-428-7758. Enrolling in CREP does not obligate you to plant anything or to sign an agreement. CREP project planning and approval can take several months and during that time, landowners may withdraw without obligation. It is during the planning process that the landowner can decide if CREP works for them.
Links
​
Look up your soil type with this interactive Web Soil Survey mapper provided by the Natural Resources Conservation Service.
​
​
United States Department of Agriculture Farm Service Agency - CREP